Ola Gorie Sterling Silver Pictish Brooch Pin Scottish vintage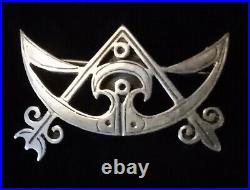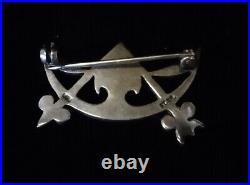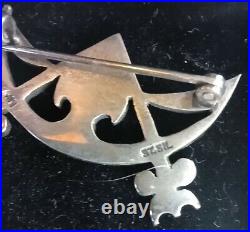 Dimensions: Around 3.5 cm x 2 cm. Ola Gorie is one of Britain's most important jewellery designers of recent times. A pioneer in the 1960s, she explored her Celtic and Norse heritage to find inspiration for stylish, wearable, modern jewellery. Her designs have continued to break new ground, and influence a generation of designers.
Her early pieces quickly gained approval at home and abroad, and her name became synonymous with stylish, finely crafted jewellery. She was awarded an MBE in 1999 in recognition of her work both as a designer and as a founder of the modern jewellery industry. This honour was welcomed by the many loyal customers and collectors of Ola Gorie's jewellery around the world, as fitting recognition for the long-standing quality of her designs. In particular I note that France and Italy, which you might think would be fine, regularly lose most parcels I send in their direction.
If you would like to check prices in advance feel free to message me.