VICTORIAN SCOTTISH AGATE BRACELET NECKLACE with Silver Extension Chain SUPERB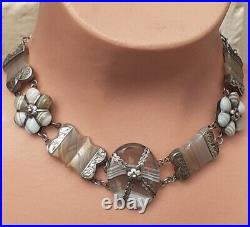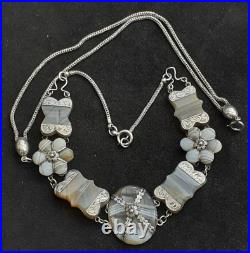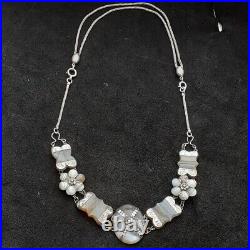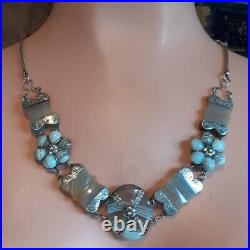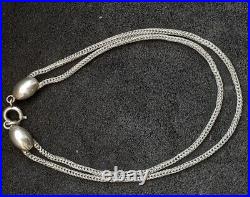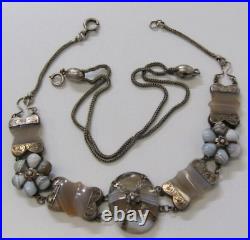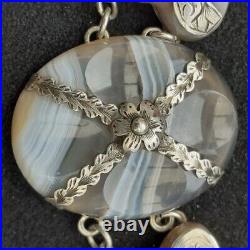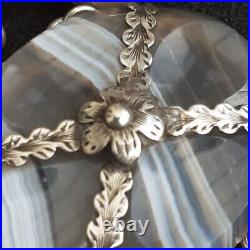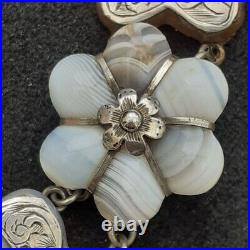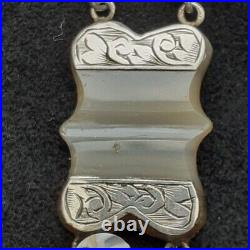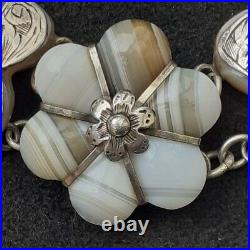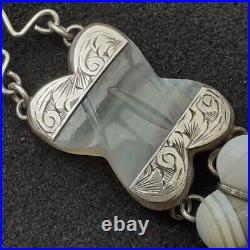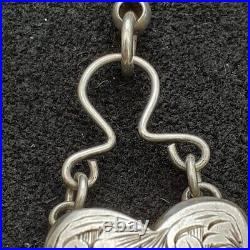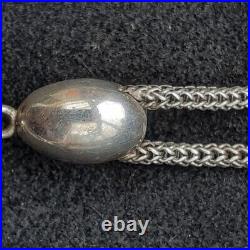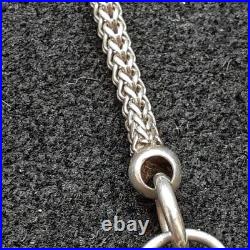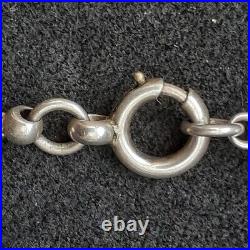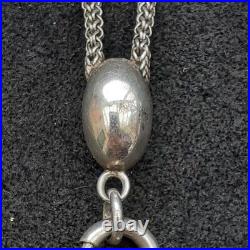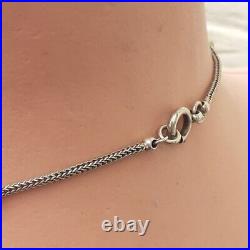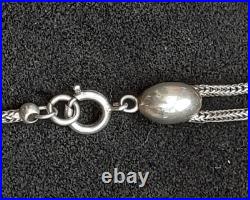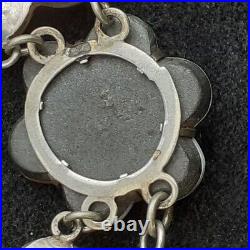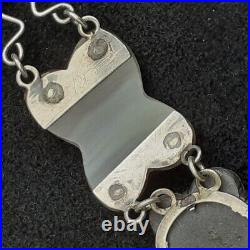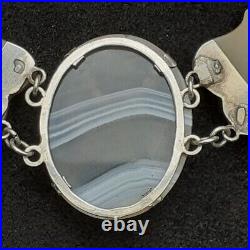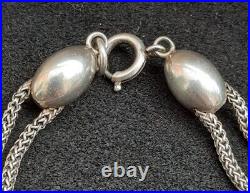 SUPERB Victorian SCOTTISH AGATE BRACELET NECKLACE. A wonderful Victorian agate piece consisting of four carved panels of translucent banded chalcedony, mounted in silver at each end, the two end panels are interspersed with floral panels, each one of six lobes of grey and white banded agate, mounted to a slate back piece, with each rounded lobe being separated by a silver band and having a decorative silver flower boss to the centre. At the centre of the piece is a large oval piece of beautifully marked banded chalcedony, in shades of grey and white with a clear and very translucent pale grey.
The central oval is mounted to the reverse on a silver surround which crosses over the front of the chalcedony in decoratively worked straps, finished with a large floral boss to the centre. The floral motif is echoed in the chalcedony also, as it has been carved with four concave petals. The agates are all very lovely, with subtle colours and markings but the star of the piece is the central panel, which has the most wonderful quality to it and when the light shines through it, there is an ethereal beauty, like a misty morning light in the Scottish Highlands. All the panels are in excellent condition and the silverwork is in super condition also, with lovely engraving to the mounts and delightful leaf designs on the strapping to the central stone.
Clearly, this began life as a bracelet, which has been converted into this fabulous necklace. I believe the conversion to have been done not long after the piece was made, judging from the style of chain and fittings used. I can imagine perhaps the original owner found the piece too large and impractical as a bracelet and so this ingenious conversion took place. It is an inspired idea, superbly realised, with the resulting piece being extremely attractive and versatile.
The way it has been thought out means it can be worn as a choker, which looks absolutely stunning on, or as a longer necklace simply by adding the second length of chain. Where the bracelet would normally fasten with a padlock closure, two pieces of fancy link extension chain have been added, each approx 6.5cm. Each of these has a large silver loop at each end, and one terminates in a lovely sturdy period silver spring ring. Worn like this, the piece fits as a choker.
There is a further double extension chain of approx 8 24cm, with exactly the same fittings as the shorter extension chains already fitted to the bracelet, allowing it to also be worn as a longer necklace if desired. This longer extension chain consists of two chains, one of 24cm, and one of about 27cm, which creates a swagging effect on the back of the neck when worn (see pics).
These two chains are attached via an unusual egg-shaped mount which then attaches to a silver loop at one end, and a sturdy spring ring identical to the one on the smaller extension chain. The smaller extension chains could easily be removed, and replaced with a standard padlock closure, allowing the piece to be worn as a classic Scottish Agate Bracelet. All in all, an unusual and versatile piece, giving the owner several options. Length of Bracelet 24cm 8.
Length as choker 37cm 14.5. Length as necklace 61cm 24. More pics / detail available on request. See my other listings for more vintage and antique gems.