Vintage Scottish Thistle amethyst brooch Robert Allison sterling silver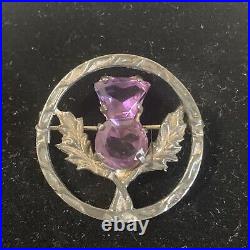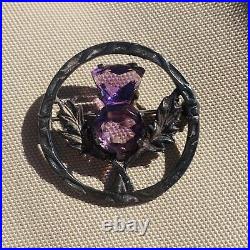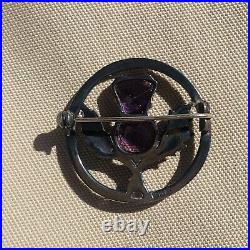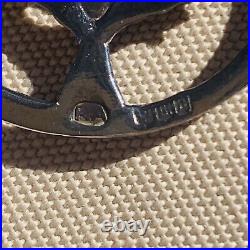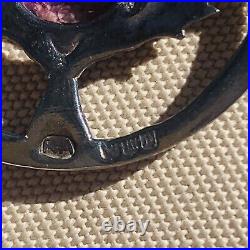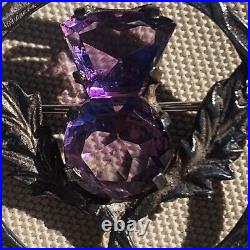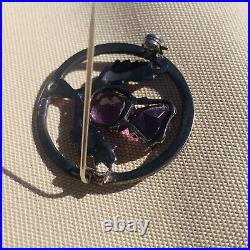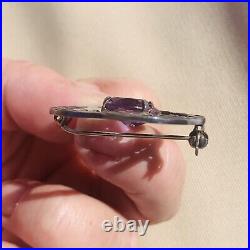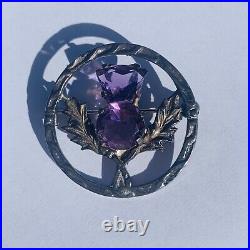 Beautiful vintage Scottish Thistle amethyst brooch by Robert Allison in sterling silver. The thistle plant is the national emblem for Scotland.
The two amethyst stones form the shape of a thistle flower! The top amethyst is an Isosceles trapezoid and the bottom is round with a flat top. They are prong set with an open back. It seems most of Robert's work was done in silver only so this is quite special. The hallmarks on the back of the brooch are RA (for Robert Allison), a thistle, a castle for Edinburgh and the letter M as far as I can make them out. The pin is hinged on one side with a rollover clasp on the other. I have left the patina on this brooch as this dark of a patina only comes with age.
The stones test as amethyst on a Presidium II gem tester. The brooch measures 1 1/4 across approximately.
5-6mm thick approximately as far as I can tell.